News
VIDEO: Apple unveils iPhone 15 Pro and iPhone 15 Pro Max – Featuring lightweight titanium design, A17 Pro for next-level performance and mobile gaming
Apple today debuted iPhone 15 Pro and iPhone 15 Pro Max, designed with aerospace-grade titanium that's strong yet lightweight to deliver Apple's lightest Pro models ever. The new design also features contoured edges and a customizable Action button, allowing users to personalize their iPhone experience. Powerful camera upgrades enable the equivalent of seven pro lenses with incredible image quality, including a more advanced 48MP Main camera system that now supports the new super-high-resolution 24MP default, the next generation of portraits with Focus and Depth Control, improvements to Night mode and Smart HDR, and an all-new 5x Telephoto camera exclusively on iPhone 15 Pro Max. A17 Pro unlocks next-level gaming experiences and pro performance. The new USB‑C connector is supercharged with USB 3 speeds — up to 20x faster than USB 2 — and together with new video formats, enables powerful pro workflows that were not possible before. And with the addition of Roadside Assistance via satellite, the iPhone 15 Pro lineup builds on Apple's innovative satellite infrastructure to connect users to help if they have car trouble while off the grid.
iPhone 15 Pro and iPhone 15 Pro Max will be available in four stunning new finishes, including black titanium, white titanium, blue titanium, and natural titanium. Pre-orders begin Friday, September 15, with availability beginning Friday, September 22.
"This is the most pro lineup we have ever created, with a state-of-the-art titanium design, the best iPhone camera system yet that enables game-changing new workflows, and the A17 Pro chip, which ushers in a new chapter of performance and games never before seen on iPhone," said Greg Joswiak, Apple's senior vice president of Worldwide Marketing. "iPhone 15 Pro and iPhone 15 Pro Max represent the best of Apple design and industry-first innovations to help enrich the everyday experiences of our users, while enabling them to unleash their creativity."
A Stunning, Lightweight, and Durable Design
Available in 6.1-inch and 6.7-inch display sizes, iPhone 15 Pro and iPhone 15 Pro Max feature a strong and lightweight titanium design — a first for iPhone. This premium alloy — the same used in spacecraft — has one of the highest strength-to-weight ratios of any metal, making this Apple's lightest Pro lineup ever. Both models feature a new refined brush texture, contoured edges, and the thinnest borders on iPhone. The Pro lineup is built to last, combining the strength of titanium with the toughest back glass in a smartphone and the industry-leading Ceramic Shield on the front. Using an industry-first thermo-mechanical process, the titanium bands encase a new substructure made from 100 percent recycled aluminum, bonding these two metals with incredible strength through solid-state diffusion. The aluminum frame helps with thermal dissipation and allows the back glass to be easily replaced. This new design highlights the Super Retina XDR display with Always-On and ProMotion technologies for an exceptional viewing experience.
The all-new Action button replaces the single-function switch used to toggle between ring and silent, offering additional options so users can choose between quickly accessing the camera or flashlight; activating Voice Memos, Focus modes, Translate, and accessibility features like Magnifier; or using Shortcuts for more options. A press-and-hold gesture with fine-tuned haptic feedback and visual cues in the Dynamic Island ensure the new button launches the intended action.
By default, the new Action button can switch between ring and silent, but users can choose from a set of actions for even more convenience and versatility.
A17 Pro: A New Generation of Apple Silicon for iPhone
Bringing pro performance and capabilities, iPhone 15 Pro and iPhone 15 Pro Max are powered by A17 Pro, the industry's first 3-nanometer chip. Continuing Apple's leadership in smartphone silicon, A17 Pro brings improvements to the entire chip, including the biggest GPU redesign in Apple's history. The new CPU is up to 10 percent faster with microarchitectural and design improvements, and the Neural Engine is now up to 2x faster, powering features like autocorrect and Personal Voice in iOS 17. The pro-class GPU is up to 20 percent faster and unlocks entirely new experiences, featuring a new 6-core design that increases peak performance and energy efficiency. Now with hardware-accelerated ray tracing — which is 4x faster than software-based ray tracing — iPhone 15 Pro offers smoother graphics, as well as more immersive AR applications and gaming experiences. iPhone 15 Pro brings true-to-life gaming to the palm of users' hands with console titles never before seen on a smartphone, like Resident Evil Village, Resident Evil 4, Death Stranding, and Assassin's Creed Mirage.4
A17 Pro includes a dedicated AV1 decoder, enabling more efficient, high-quality video experiences for streaming services. Additionally, a new USB controller enables USB 3 speeds on iPhone for the first time, now supporting much higher transfer speeds and video output up to 4K at 60 fps HDR.
Pause playback of video: Assassin's Creed Gameplay on iPhone 15 Pro with A17 Pro
The new 6-core GPU in A17 Pro expands what's possible on iPhone, enabling next-level mobile gaming with fast, efficient performance and hardware-accelerated ray tracing.
A Powerful Pro Camera System for More Creative Control
Through a deep integration of hardware and software, the advanced camera systems on iPhone 15 Pro and iPhone 15 Pro Max both pack the equivalent of seven pro lenses — all enabled by A17 Pro. With the power of computational photography, the 48MP Main camera, built exclusively for the Pro lineup, gives users even more flexibility with a new 24MP super-high-resolution default, offering incredible image quality at a practical file size ideal for storing and sharing. The Main camera allows users to switch between three popular focal lengths — 24 mm, 28 mm, and 35 mm — and even choose one as a new default. In addition to 48MP ProRAW, the Main camera also supports 48MP HEIF images with 4x more resolution. iPhone 15 Pro features an expansive 3x Telephoto camera, and iPhone 15 Pro Max provides the longest optical zoom ever on iPhone: 5x at 120 mm. Great for close-ups, wildlife photos, and catching the action from further distances, the new Telephoto camera on iPhone 15 Pro Max has an innovative tetraprism design with a combined optical image stabilization and autofocus 3D sensor-shift module, Apple's most advanced stabilization system yet.
With Apple's most pro camera systems ever, users will get powerful new features and the equivalent of seven camera lenses in their pocket, including 5x at 120 mm on iPhone 15 Pro Max.
Next-generation portraits on iPhone 15 Pro and iPhone 15 Pro Max feature sharper detail, more vivid colors, and better low-light performance. For the first time, users can take portraits without having to switch to Portrait mode. When there's a person, dog, or cat in the frame, or when a user taps to focus, iPhone automatically captures depth information, so users can turn photos into stunning portraits later in the Photos app on iPhone, iPad, or Mac. For greater creative control, users can also adjust the focus point after the photo has been taken.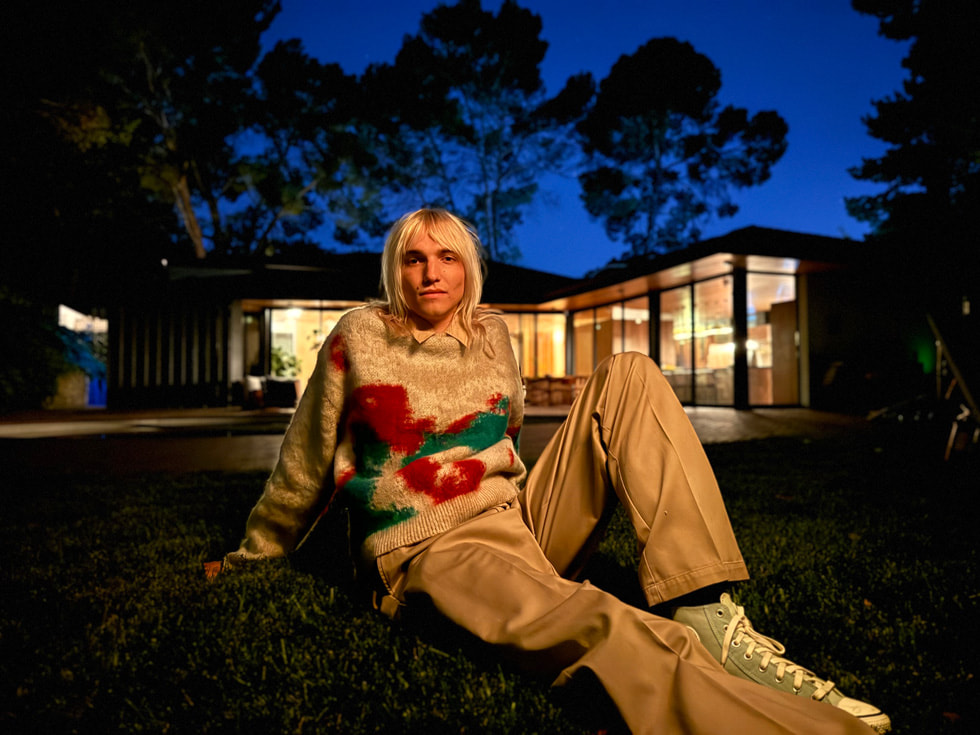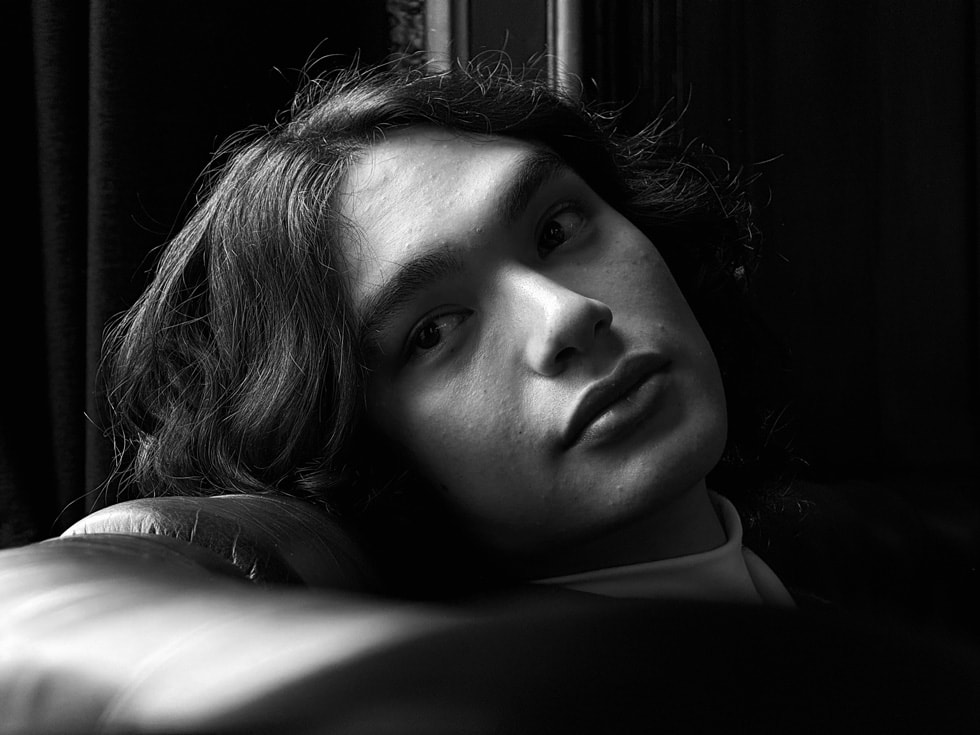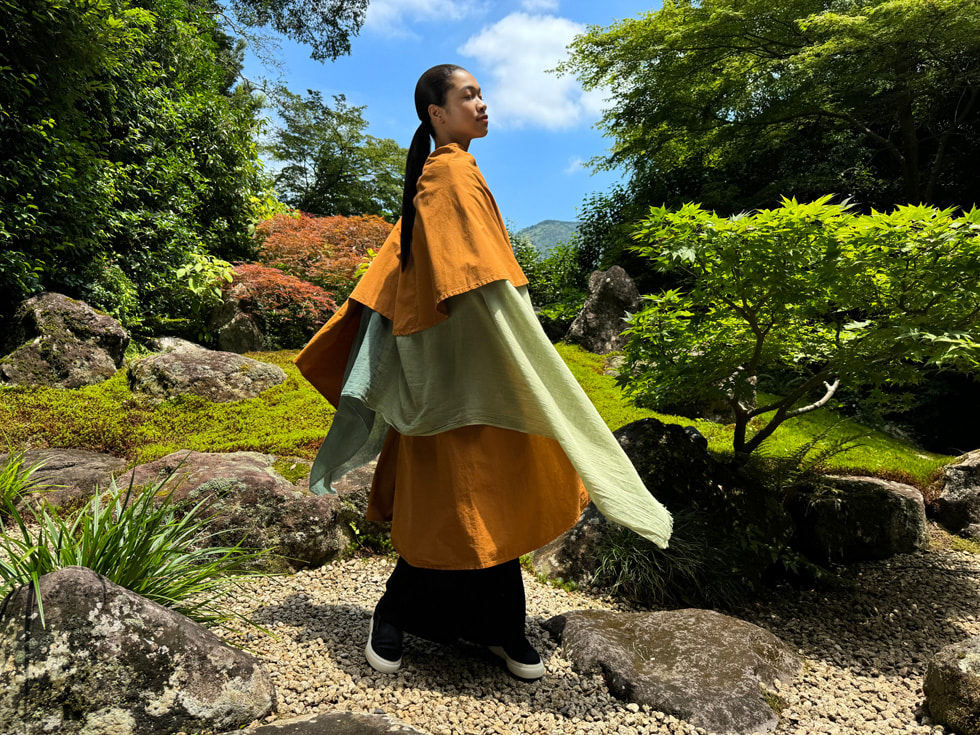 Additional features that benefit all cameras on iPhone 15 Pro and iPhone 15 Pro Max include:
Night mode gets better with sharper details and more vivid colors, now powered by the Photonic Engine, including Night mode portraits, enabled by the LiDAR scanner.
New Smart HDR captures subjects and the background with more true-to-life renderings of skin tones, while ensuring photos have brighter highlights, richer midtones, and deeper shadows when viewed in the Photos app. This advanced HDR rendering is also available to third-party apps, so images can look even better when shared online.
The best quality video in a smartphone is upgraded thanks to A17 Pro, with improvements in low-light video and Action mode.
The preferred smartphone for creative pros and filmmakers gets even better with new pro workflows. Users can now get up to 20x faster transfer speeds with an optional USB 3 cable. iPhone and third-party solutions like Capture One also help photographers create a pro studio, allowing them to shoot and instantly transfer 48MP ProRAW images from iPhone to Mac. ProRes video can be recorded directly to external storage, enabling higher recording options up to 4K at 60 fps, and greater flexibility on set when using iPhone as the main camera. iPhone 15 Pro also introduces a new option for Log encoding and is the first smartphone in the world to support ACES, the Academy Color Encoding System, a global standard for color workflows.
Coming later this year, iPhone 15 Pro will add a new dimension to video capture with the ability to record spatial video for Apple Vision Pro. Users will be able to capture precious moments in three dimensions and relive those memories with incredible depth on Apple Vision Pro when it is available early next year in the U.S.
Next-Level Wireless Performance and Connectivity
The iPhone 15 Pro lineup offers convenient new ways to charge, find friends in busy places, and stay connected while traveling. Both models use the USB‑C connector, a universally accepted standard for charging and transferring data, allowing the same cable to charge iPhone, Mac, iPad, and the updated AirPods Pro (2nd generation). Users can also charge AirPods or Apple Watch directly from iPhone with the USB‑C connector. iPhone 15 Pro and iPhone 15 Pro Max support USB 3 for data transfer speeds up to 10 gigabits per second, up to 20x faster than before.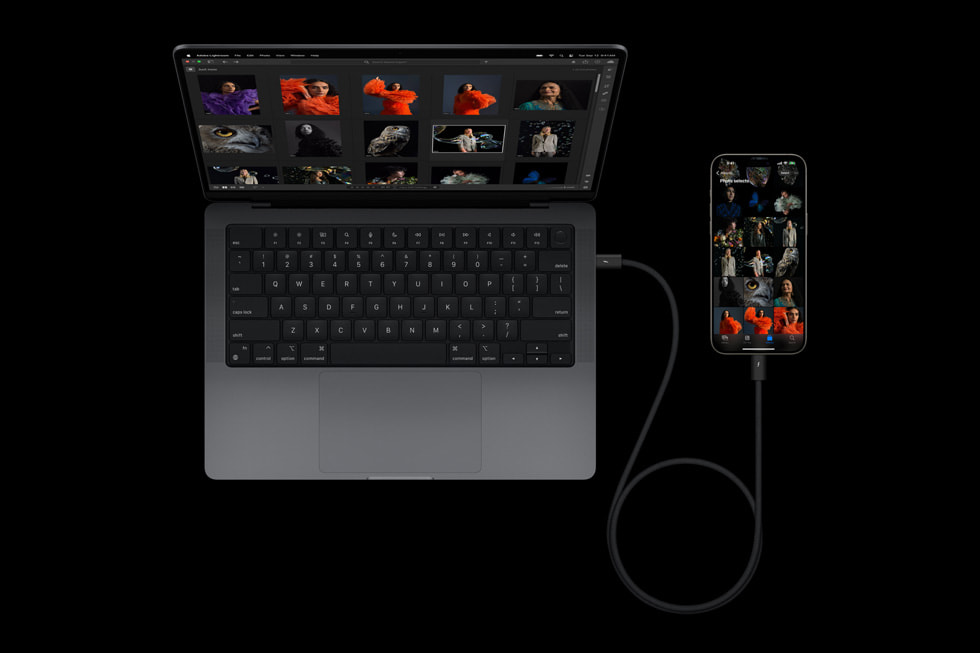 Both models feature the second-generation Ultra Wideband chip, enabling two iPhone devices with this chip to connect at three times the range as before. This opens up a new way to use Precision Finding for Find My friends, so iPhone 15 users can share their location and find each other, even in crowds. Precision Finding is built with the same privacy protections that users have come to trust in Find My.
iPhone 15 Pro and iPhone 15 Pro Max now support Wi-Fi 6E for greater wireless performance, including up to 2x faster speeds, and introduces the first Thread-enabled smartphones, opening up future opportunities for Home app integrations.
iPhone 15 Pro and iPhone 15 Pro Max come equipped with super-fast 5G, and include:
Support for MagSafe and future Qi2 wireless charging.
Improved audio quality on phone calls, including those made on FaceTime or third-party apps. Sound quality gets even better when users select Voice Isolation, so conversations come through loud and clear, even if they are somewhere noisy.
eSIM with support from more than 295 carriers. When traveling the world, users can stay connected through affordable international roaming plans from their existing carrier, or purchase prepaid eSIM plans in over 50 countries and regions, including Australia, Italy, Thailand, and more.
Expanded Safety Capabilities for Peace of Mind
The iPhone 15 lineup offers critical safety capabilities to provide assistance when it matters most, including Crash Detection and Emergency SOS via satellite. Currently available in 14 countries and regions on three continents, Emergency SOS via satellite has made a significant impact in users' lives. This groundbreaking service will come to Spain and Switzerland later this month.
Building on this innovative satellite infrastructure, iPhone 15 Pro and iPhone 15 Pro Max introduce Roadside Assistance via satellite. Beginning in the U.S., when a user has car trouble and cellular and Wi-Fi coverage are not available, they can now connect to AAA, the country's largest roadside assistance provider. An intuitive interface, including a short questionnaire to capture important details, will transmit the information via satellite so AAA can message with the user directly and dispatch help to their exact location. Access to Roadside Assistance via satellite will be included for free for two years. Service is covered according to AAA membership, but is also available separately for nonmembers.
Featuring iOS 17
iPhone 15 Pro and iPhone 15 Pro Max feature iOS 17, making iPhone even more personal and intuitive with new features:
The Phone app gets major updates, with Contact Posters that allow users to customize how they appear to their contacts, and Live Voicemail, which leverages the power of A17 Pro to see real-time on-device transcription as someone leaves a voicemail. Users can even pick up the call while the caller is leaving their message.
Messages gets a new stickers experience, more powerful search, transcription of audio messages, and Check In, which allows users to automatically notify friends and family when they have made it to their destination safely.
NameDrop gives users a new way to use AirDrop to more easily share contact information by simply bringing two iPhone devices together. The same gesture can be used to AirDrop content and more, and now users can step away from each other and finish sending large files over the internet.
StandBy gives users a customizable full-screen experience with glanceable information designed to be viewed from a distance when iPhone is on its side and charging. With the Always-On display of iPhone 15 Pro and iPhone 15 Pro Max, StandBy stays on to show useful information — perfect on a desk, nightstand, or kitchen counter.
Interactive widgets on the Home Screen, Lock Screen, and in StandBy allow users to take action with just a tap, making it easy to complete a to-do, or play or pause a song right from the widget.
Safari adds greater protection for Private Browsing and introduces profiles, helping users separate their browsing for topics like work and personal.
iOS 17 delivers many more updates, including Journal, a new app that helps iPhone users reflect and practice gratitude through journaling, improvements to autocorrect and Dictation that make entering text faster and easier than ever before, password and passkey sharing with iCloud Keychain, and much more.
Better for the Environment
iPhone 15 Pro and iPhone 15 Pro Max are designed with the environment in mind. As Apple continues to work toward its 2030 goal of making every product carbon neutral — from design to manufacturing to customer use — the company is prioritizing clean electricity across the entire supply chain and designing products with recycled and other low-carbon materials. iPhone 15 Pro and iPhone 15 Pro Max now use more recycled content, with a 100 percent recycled aluminum substructure and 100 percent recycled cobalt in the battery — both firsts for Apple. iPhone 15 Pro and iPhone 15 Pro Max also include 100 percent recycled rare earth elements in all magnets and 100 percent recycled gold in the USB‑C connector as well as the gold plating and tin soldering in multiple printed circuit boards. Both models meet Apple's high standards for energy efficiency and are free of mercury, PVC, and beryllium. Over 99 percent of the packaging is fiber-based, bringing Apple closer to its goal of completely removing plastic from its packaging by 2025.
To further reduce impact on the planet, Apple will no longer use leather in any new Apple products, including iPhone accessories. Apple is introducing a new FineWoven Case with MagSafe and FineWoven Wallet with MagSafe, made from a durable and elegant microtwill with a soft, suedelike feel. The material is made from 68 percent post-consumer recycled content and has significantly lower carbon emissions compared to leather.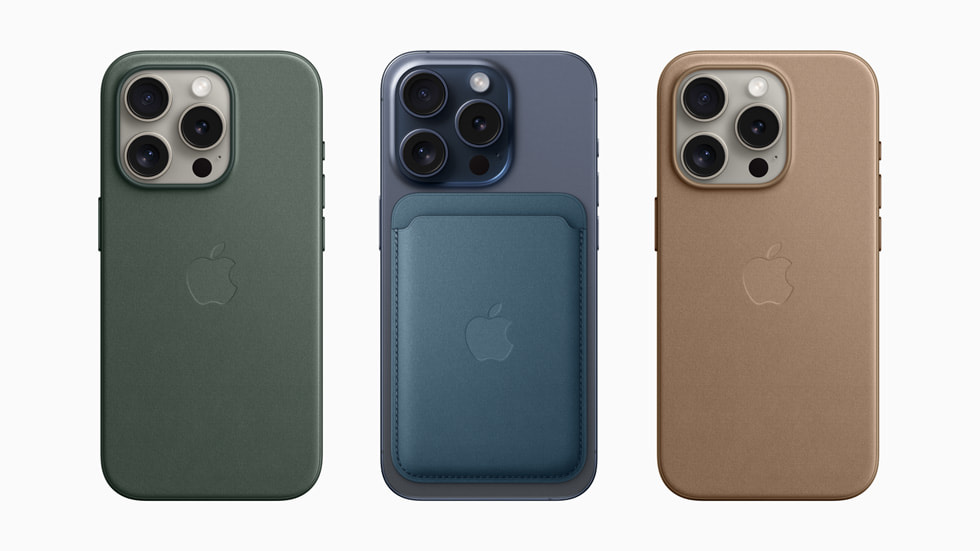 Pricing and Availability
iPhone 15 Pro and iPhone 15 Pro Max will be available in black titanium, white titanium, blue titanium, and natural titanium finishes. iPhone 15 Pro remains at the same starting price of $999 (U.S.) or $41.62 (U.S.) per month, available in 128GB, 256GB, 512GB, and 1TB storage capacities. iPhone 15 Pro Max starts at $1,199 (U.S.) or $49.95 (U.S.) per month, available in 256GB, 512GB, and 1TB storage capacities.
Apple offers great ways to save and upgrade to the latest iPhone. Customers in the U.S. can get $200–$650 (U.S.) in credit when they trade in an iPhone 11 or later and upgrade to iPhone 15 Pro or iPhone 15 Pro Max by visiting the Apple Store Online, or at an Apple Store location.
Customers can get iPhone 15 Pro for as low as $0 (U.S.) after a qualifying trade-in with select U.S. carriers.
Customers in more than 40 countries and regions, including Australia, Canada, China, France, Germany, India, Japan, Mexico, the UAE, the U.K., and the U.S., will be able to pre-order iPhone 15 Pro and iPhone 15 Pro Max beginning at 5 a.m. PDT this Friday, September 15, with availability beginning Friday, September 22.
iPhone 15 Pro and iPhone 15 Pro Max will be available in Macao, Malaysia, Türkiye, Vietnam, and 17 other countries and regions beginning Friday, September 29.
FineWoven Wallet with MagSafe and FineWoven Case with MagSafe will both be available for $59 (U.S.) in five new colors for the iPhone 15 lineup: black, taupe, mulberry, pacific blue, and evergreen. In addition to the iPhone 15 Pro and iPhone 15 Pro Max Clear Case, available for $49 (U.S.), a Silicone Case with MagSafe will be available for $49 (U.S.) in black, storm blue, clay, light pink, guava, orange sorbet, cypress, and winter blue.
iOS 17 will be available as a free software update on Monday, September 18.
Beginning September 18, iCloud+ will offer two new plans: 6TB for $29.99 (U.S.) per month and 12TB for $59.99 (U.S.) per month, providing additional storage to keep files, photos, videos, and more safe, accessible, and easy to share. The new plans are great for users with large photo and video libraries or those using Family Sharing, and will provide access to premium features, including Private Relay, Hide My Email, Custom Email Domains, and HomeKit Secure Video support.
Customers who purchase iPhone 15 Pro and iPhone 15 Pro Max will receive three free months of Apple Arcade and Apple Fitness+ with a new subscription.