Home
A Year in Nigerian Search: Google's Top Searches of 2012
Google has announced its annual Zeitgeist, a look at 2012 through the collective eyes of the world on the web, offering a unique perspective on this year's major events and hottest trends based on searches conducted in Nigeria.
Notable on the list for overall trending Nigerian searches in 2012 are education-related terms; "JAMB", "WAEC result 2012"  and "ASUU Strike" – This shows that Nigerian students are now resorting to the internet to gather crucial information about happenings in the academic space. Also coming tops in the overall list for trending Nigerian searches are terms Eskimi, Whitney Houston, NNPC recruitment, Boko Haram and Fuel Subsidy.
Beloved songstress and world famous diva, Whitney Houston (who passed away in February this year) takes the number one spot on the the list of overall trending people in Nigeria, followed closely by Super Eagles and Chelsea new signing, Victor Moses and Brazilian soccer star; Ronaldinho.
Perhaps more interesting for Nigerians are the music and Nollywood related searches. In the top trending Nigerian musician class, Davido aka "omo baba olowo" took the top spot as Nigeria's fastest trending musician, closely followed by WizKid, MI, Dbanj, Psquare and Timaya. In the top Nollywood trending searches category, Mercy Johnson, who was the most trending Nollywood personality in 2011, maintained the position in 2012. She was closely followed by Ini Edo, Tonto Dike, Funke Akindele, and Genevieve.
If you were wondering if football still occupies a place in the hearts of Nigeria, well..yes it does. The love Nigerians have for top flight clubs in Europe is still as strong as ever. Champions league champions Chelsea FC is the 2012 are most trending football club in Nigeria, with Arsenal, Barcelona and Real madrid in 2nd, 3rd and 4th places respectively. The top Manchester rivals Manchester United and Manchester City both came 6th and 9th position respectively.
2012 was perhaps the year of discovering love in Nigeria with users asking 'how to love' and 'what is love?'  Here's hoping that this is reflected across the country in 2013. At the same time, unexpected hobbies seem to be making a comeback, with 'how to rap', 'how to dress' and 'how to crochet' also making it into the top ten 'how to's'.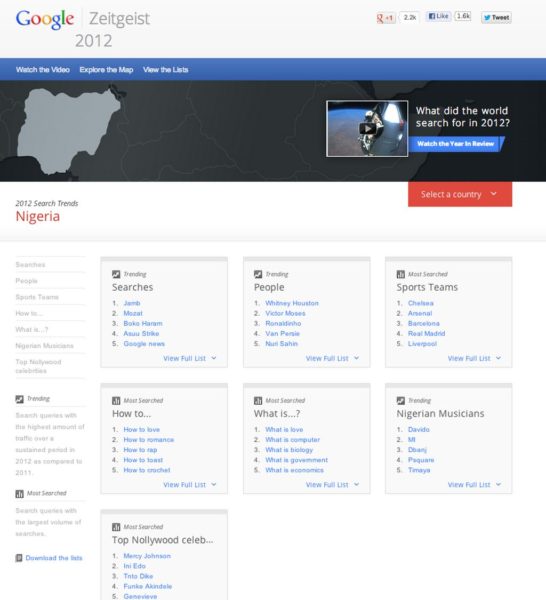 This list wouldn't be complete without listing some of the top searches connected to major incidents that occurred during year. Searches for "Rashidi Yekini dead", and "Place Crash" connect to some of the most painful incidents in Nigeria in 2012.
Last but not least, in terms of tech trends, the blackberry porsche captured Nigeria's imagination, coming in 29th overall, and grabbing first place on the top gadgets list.
In addition to showcasing what people were curious about in Nigeria, Google Zeitgeist tools also offer insight into which topics captured the world's attention in 2012. Top search terms from over fifty countries appear on our Google Zeitgeist webpage, googlezeitgeist.com – from most-searched travel destinations in Brazil, trending Australian celebrities and most-searched Egyptian Olympians, to top tech gadgets in Japan and everything in between.
To see more information about Google Zeitgeist across the globe, use interactive data visualizations and to watch our annual video, visit googlezeitgeist.com
www.google.com/zeitgeist/2012
What is Google's Year-End Zeitgeist?
"Zeitgeist" means "the spirit of the times." At the end of each year, Google celebrates this spirit by revisiting the year's top searches around the world. From most-searched travel destinations in Brazil, to trending Australian celebrities, to most-searched Egyptian Olympians, to top tech gadgets in Japan, and everything in between, these lists give us insight into the curiosities that captured the world's attention in 2012.  This year, we're launching the 12th annual Google Year-End Zeitgeist on google.com/zeitgeist. Our site showcases over 800 top-ten lists across pop culture, sports, music, politics, news, and more. It's global, spanning over 50 countries. You can check out global search trends, compare terms using interactive data visualizations, and watch the annual Zeitgeist video.
THE LISTS
Nigeria Overall Trending Searches

JAMB
Mozat
Boko Haram
ASUU Strike
Google News
Eskimi
Whitney Houston
Vanguard News
NNPC Recruitment
Aminiya

    Nigeria Overall Trending: PEOPLE

Whitney houston
Victor Moses
Ronaldinho
Van Persie
Nuri Sahin
Usain bolt
Hulk
Davido
Eden Hazard
Rashidi Yekini
Nigeria Overall Trending: FOOTBALL CLUBS

Chelsea
Arsenal
Barcelona
Real Madrid
Liverpool
Manchester United
Reading
AC Milan
Manchester City
Everton

Nigeria Overall Trending: NIGERIAN MUSICIANS

Davido
Wizkid
MI
Dbanj
Psquare
Timaya
Ice Prince
Tiwa Savage
Tuface
Flavour
Nigeria Overall Trending: TOP NOLLYWOOD CELEBS

Mercy Johnson
Ini Edo
Tonto Dike
Funke Akindele
Genevieve
Jim Iyke
Chika Ike
Van Vicker
Rita Dominic
Stephanie Okereke

 Nigeria Overall Trending: HOW TO…

how to love
how to romance
how to rap
how to toast
how to crochet
how to dress
how to Massage
how to blog
how to freestyle
how to concentrate
Nigeria Overall Trending: WHAT IS…? – TECHNOLOGY

what is love
what is computer
what is Biology
what is Government
what is Economics
what is Education
what is Communication
what is Chemistry
what is Money
waht is Science

  Nigeria Most Searched PHONE

Blackberry Porsche

Nigeria Most searched: INTERNATIONAL SPORT

London Olympics