Home
Comedy Central acquires exclusive African TV rights to US male bonding comedy 'Men at Work'
Modern manhood goes under the microscope in this 10-part sitcom as it charts the trials and misadventures of four metrosexual pals as, together, they ineptly navigate the turbulent seas of life, friendship, work and women…especially women…
Airing weekly from 18:40 WAT on Monday 7 January 2013 (Comedy Central, DStv 122), Men at Work was created and written by actor and writer Breckin Meyer, (a.k.a "John" in the Garfield movies), and is heavily based on the real-life experiences of Meyer and his male buddies. According to Meyer, he wrote the show because: "I just wanted to write something to make myself laugh. I didn't write anything with the intention of doing a show, selling a show, doing a pilot. I wanted to write a longer-form thing, and I sat down and thought of some funny things that had happened to me in my life, and I started writing".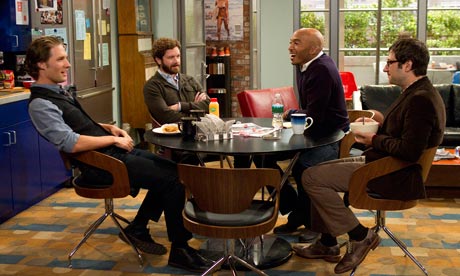 Danny Masterton (who formerly starred in "That 70's Show"), stars as writer Milo, recently dumped by his longtime girlfriend, who is relying on his best friends to get back his dating mojo. On hand to help are ladies' man and photographer Gibbs (James Lesure from "Las Vegas"), charming feature writer Tyler (Michael Cassidy from "Smallville") and accountant Neal (Adam Busch from "Buffy the Vampire Slayer") – the only member of the quartet to have a steady girlfriend – Amy (Meredith Hagner from "Royal Pains"). The four key characters work together at a men's style publication/website called "Full Steam" Magazine.

Full of cracking one-liners and witty repartee inspired by genuine conversations, Men at Work is set to introduce valuable new words and concepts into the dictionary, including such triumphs as "whorange" (the hue of unnaturally fake-tanned skin). "Macaulay Culking" (to be home alone, doing whatever, whenever, with whoever) and "Romneyism" (a blurted, deeply held politically-incorrect belief that one thinks will rally people to one's cause, or make people more sympathetic to you, that winds up having the directly opposite effect).
To find out more about Men at Work, or to have ones say about anything to do with mating, dating or relating to women, go to www.comedycentralafrica.com. Alternatively, 'Like' the Comedy Central Africa page on Facebook or join the conversation on Twitter, using the hashtag #MENATWORK.